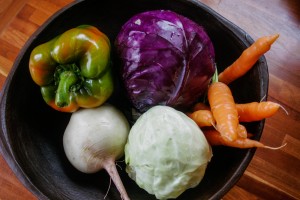 I was working at the Mueller Farmers' Market last Sunday slinging cheese, and got to sneak away from my booth long enough to score some great fresh produce.  I got some very nice red cabbage, baby green cabbage, and carrots from Phoenix Farms, some beautiful watermelon radishes from Hairston Creek Farm, and some tasty bell peppers from Bernhardt's Farm.
Since my wife left me alone in the house with a brand new mandolin in the kitchen, I decided it was high time I used it.  If there's one kitchen tool that can make me cringe it's a mandolin.  For some reason I always visualize my fingertip being julienned.  But enough about that…. slowly at first…. I braved the dangerous contraption and shredded the cabbage.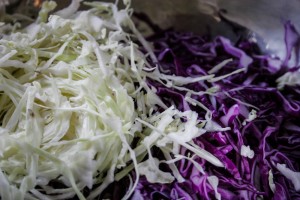 Next I carefully… sooo carefully changed out the blades and julienned the carrots, sliced the pepper paper thin, and made the radish into something like Ruffles potato chips.  They have ridges.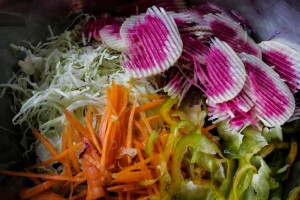 The watermelon radishes really get to shine this way.  Beautiful, eh?  All fingertips intact, I set to making the sauce.  Here's what I used:
Juice of 1 Meyer Lemon
3/4 Cup Sesame Oil
3 teaspoons Apple Cider Vinegar
2 teaspoons Chipotle powder
1 teaspoon German Mustard
2 Tablespoons Agave nectar
Salt to taste
Fresh ground Black Pepper to taste
Whisk it all together, toss it with the slaw.  Tada!  For lunch I just took a handful of salad greens and about a cup of slaw.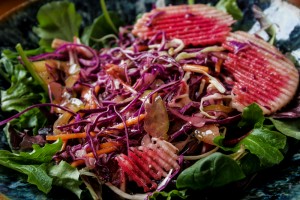 Fresh Farmers' Market Cole Slaw
Recipe type:
Salad or Side
Easy, fresh, and spicy cole slaw
Ingredients
Slaw
Cabbage
Bell Pepper
Carrots
Radish
Sauce
Juice of 1 Meyer Lemon
¾ Cup Sesame Oil
3 teaspoons Apple Cider Vinegar
2 teaspoons Chipotle powder
1 teaspoon German Mustard
2 Tablespoons Agave nectar
Salt to taste
Fresh ground Black Pepper to taste
Instructions
Slice cabbage, pepper, and radish
Julienne carrots
Whisks sauce ingredients together
Toss with slaw