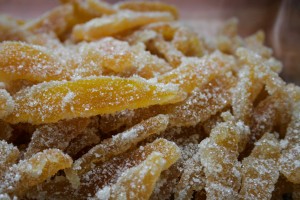 A friend of ours has a Meyer Lemon tree, and it was boomin' this year!  We really scored with these.  Not only are they great for mixed drinks, lemonade, and lemon curd (post coming soon), the rinds make a beautiful candy.  This recipe is adapted from Put 'Em Up by Sherri Brooks, one of my all time favorite books for preserving food.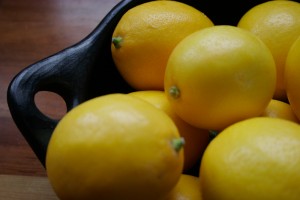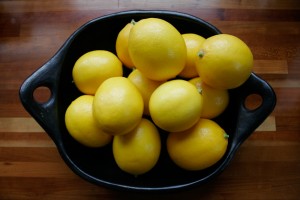 The first thing you need for this recipe is some great Meyer Lemons.  Check.  I used about 10 lemons worth of peels for this.  The juice went into some excellent lemon curd.  The rinds for cut up into about 1/4″ slices.
You will also need:
About 5 Cups of Sugar
1 Vanilla Bean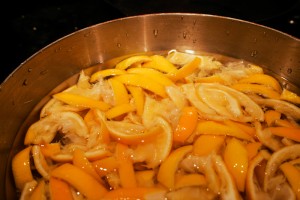 Put all the rind slices into a pot, and cover with cold water.  Bring to a boil, then strain the water off.  Do this 3 times to make the rinds nice and tender.
Next you need to bring three cups of water to a boil in a large pot.  Gradually add 4 cups of the sugar, stirring so it all gets dissolved.  Add the drained rinds and the vanilla bean.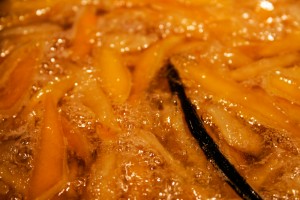 Bring back to a boil, then lower heat to a simmer for 1 hour.  The rinds should turn translucent
Transfer the rinds to parchment paper for about 7-10 hours.  Save the syrup in the pan for making delicious mixed drinks!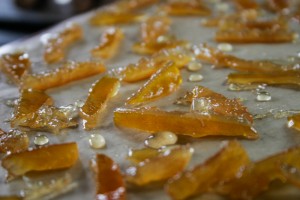 After 7-10 hours they will be much more dry, but still very sticky.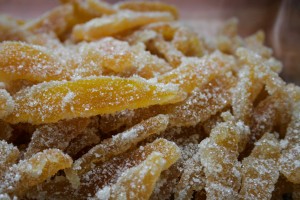 Roll the rinds in the rest of your sugar and store in an airtight container for up to about 2 weeks.  Enjoy!