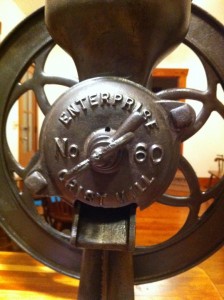 After a great trip to Homestead Heritage in Waco, TX last year, I told my wife, "Man, I sure would like a gristmill!" At Homestead Heritage they had a nice water powered grinding stone where they would grind all sorts of grains.  Being a bread baker, I really wanted to try my hand at some freshly ground grains for a change.  No less than 48 hours later, my wonderful wife came home with this gorgeous piece of history: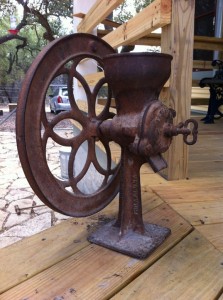 Beautiful, isn't it?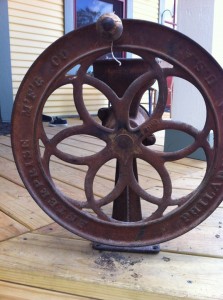 Sure, it's a little bit rusty.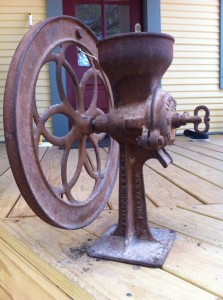 OK, it's a lot rusty.  So rusty in fact that none of the pieces would budge.  This called for some serious cleaning up.  I ended up getting a 100+ quart Sterlite container and setting up a hydrolysis bath for this baby.  What this consisted of was:
Large Sterlite Container
Lots of water
Baking Soda
Scrap Stainless Steel
Car Battery Trickle Charger
I dissolved a good amount of baking soda in the water, then I placed the entire gristmill (except for the wooden handle) inside the bath.  Next I clamped the stainless steel piece to the side of the container where it wouldn't touch the gristmill.  The next part was so cool…I hooked up the battery charger negative terminal to the gristmill and the positive side to the stainless scrap…  Plugged the sucker in and… BLAM!  Everything starts to bubble.
After about 48 hours in this bath all the rust and corrosion had fallen off the gristmill and I was able to take it completely apart to clean the pieces.  A little time with a wire brush and cloth and it was all nice and clean.  Next, I oiled it all up with vegetable oil, and seasoned it in the oven like a cast iron skillet.  Here are the results: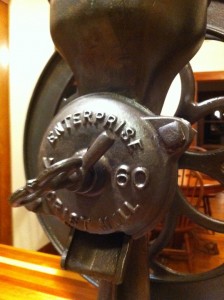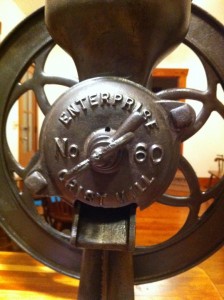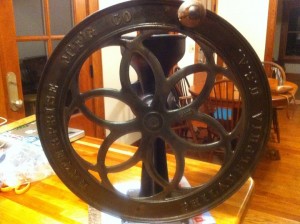 This thing is truly gorgeous.  But does it work?  You betcha.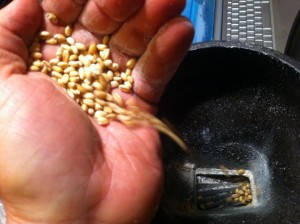 Add some wheat berries, crank the handle….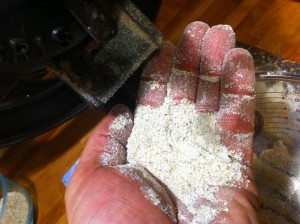 My very own freshly ground flour.  A dream come true!  Then it was time to make a couple monster loaves of bread.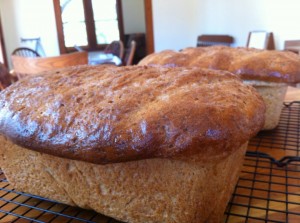 Fantastic!