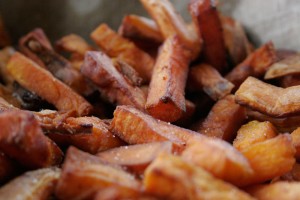 This recipe works well with regular potatoes as well, but with a good sweet potato these things rock!
The only things you need for these is a high flash point oil (I use grapeseed), salt, sweet potatoes, a candy (or deep fry) thermometer, and a pan. If you have a deep fryer that would work too, but I don't.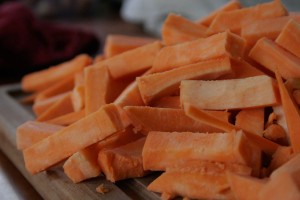 Peel and cut your potatoes in about 1/2″ fries.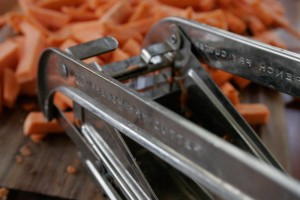 I use my nifty french fry cutter for this part. Got this at an antique shop. It works like a champ.
Put your oil in a deep pan, and use your thermometer to get it to about 325 degrees.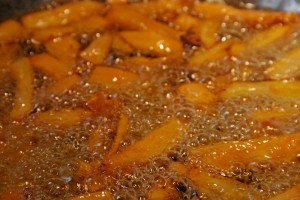 Throw in just a couple of handfuls of fries so you don't lower the temperature too much and fry for about 8 minutes. Use a slotted spoon to pull them out into a bowl or plate with paper towels. Repeat until all the fries have gone through the first fry. This cooks all the potatoes all the way through.
Now raise your temperature to about 375 degrees.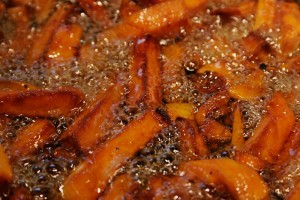 Put the cooked fries into the oil a couple handfuls at a time for about 4 minutes. Remove to paper towels. Pat dry, salt, and serve. Easy… and yum.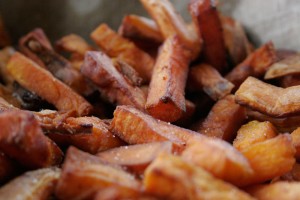 Prep time:
Cook time:
Total time:
Double Fried Sweet Potato French Fries
Ingredients
Sweet Potatoes
Salt
Fry Oil
Instructions
Peel and cut your sweet potatoes into ½" fries.
Heat oil to 325 degrees.
Fry potatoes 2 handfuls at a time for 8 minutes.
Drain on paper towels.
Increase heat to 375 degrees.
Fry cooked fries for 4 minutes more.
Drain on paper towels.
Salt, and eat.