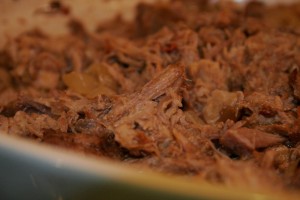 While in Mexico earlier this year, I decided to try my hand at some pork carnitas. The only cut of meat the butcher had was a beautiful loin, so I went with that. Traditionally carnitas are nice fatty roasts fried in lard in a big copper pot. Here I was with no copper pot, and no roast. Time to figure something else out. I did… and it is spectacular.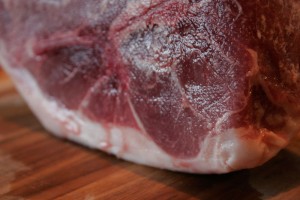 The first thing you need is some pork. I don't care what cut you have (I have done this with all the cuts from a 50 lb feral pig). The photos in this post are from a couple of shoulder roasts from a pig I raised last year.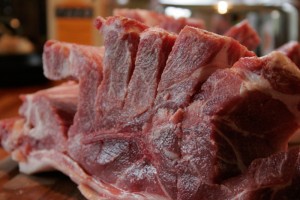 Next cut the meat almost allt he way through, stopping just short of the bottom. If there is a bone in there cut to the bone, it's ok.
Now you're gonna need to mix up a dry rub. I used these ingredients:
8 tablespoons chili with lime powder
4 tablespoons red chili pepper flakes
3 tablespoons dried thyme
2 tablespoons salt
2 tablespoons black pepper
Mix it all up in a bowl…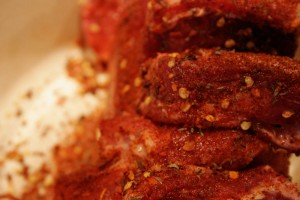 Then rub it all over the meat… inside the cuts and all. Pour a couple of tablespoons of vegetable oil in a large pot, turn on the heat to about medium, and put your meat in. Meanwhile chop up an onion or two real course, and crush a few garlic cloves and fill in the space around the meat with them.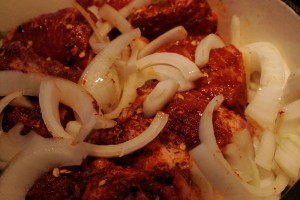 Here's the real kicker… you are now going to pour in orange juice and milk (equal parts) down the sides of the pot to fill it up, add a stick of butter cut up to the top, and add a little more OJ or milk as needed to cover the top of the meat.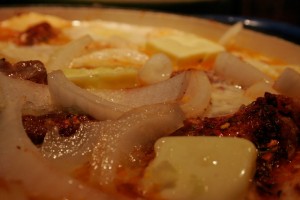 Simmer on very low heat for about 2 1/2 – 3 hours.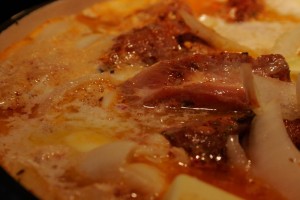 I had a friend do this recipe in a crockpot all day long. I bet that turned out pretty tasty. The trick is slow cooking this thing until the meat is falling apart. Usually happens at an internal temperature of about 200 degrees.
When it is falling apart, preheat the oven to 400 degrees, and remove the meat from the pot into a baking dish. Use two forks and shred all the meat in the dish. Spoon some of the juices over the meat, and place it in the oven for about 15 minutes. Stir it up at about 10 minutes.
Eat it with corn tortillas, cilantro, salsa… or just straight up. It was so good…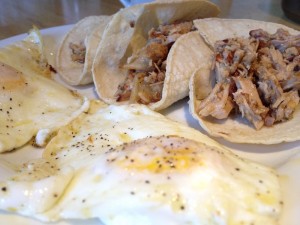 I had to have it immediately the next day for breakfast. Enjoy.

Prep time:
Cook time:
Total time:
Pork Carnitas made with orange juice and milk
Ingredients
3-5 lbs Pork (any good cut)
Dry Rub
8 Tablespoons Chili with Lime powder
4 Tablespoons Dried Red Chili Flakes
3 Tablespoons Dried Thyme
2 Tablespoons Salt
2 Tablespoons Black Pepper
In the Pot
2 Tablespoons Vegetable Oil
1-2 Onions coarsely, chopped
4 Garlic Cloves, smashed
Milk
Orange Juice
1 Stick Butter, sliced
Instructions
Cut the meat (not all the way through) in about ¾" slices.
Mix up the dry rub ingredients.
Rub the meat with the dry rub.
Put the vegetable oil in the pot, turn to medium heat.
Put in the meat.
Add onions and garlic to fill space in pot.
Add orange juice, then milk in equal parts until almost over the top of the meat.
Add butter on top.
Top off with more milk or orange juice to cover meat.
Simmer for 2½ - 3 hours until meat is falling apart, or internal temperature is about 200 degrees.
Preheat oven to 400 degrees.
Shred meat into baking dish, top with a few spoonfuls of juice from the pot.
Bake for 15 minutes, stirring at 10 minutes.
Enjoy with corn tortillas, cilantro, and salsa.