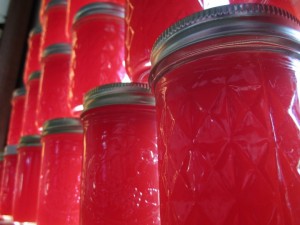 Back in May of 2010, I noticed around the farm that we had an ABUNDANCE of beautiful agarita berries.  If you have never heard of agaritas before, they are a Texas native plant that produce a very sweet-tart like red berry about the 1/4″ in diameter. Someone said, "Hey you should make some agarita jelly!".  Sure, why not.
The first thing we had to do was figure out how to get the darn things off the bush and into the kitchen without turning our hands into pin cushions.  Agarita bushes have very nasty prickly leaves.  Eventually I decided a sheet, some welding gloves, and a croquet mallet needed to get involved.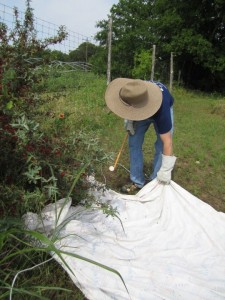 With a lot of hitting the bushes we started to see some results…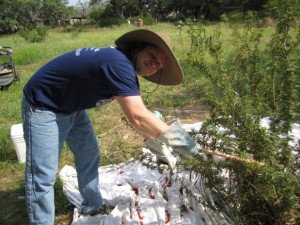 Sometimes I had to give them a shake as well to get the berries off…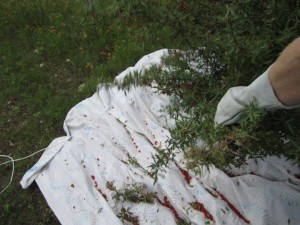 What we got was a whopping 14lbs of agarita berries, ready to be sorted, juiced, and made into jelly.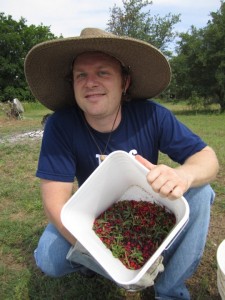 Sorting took the most time…. and OUCH those dry agarita leaves are the worst!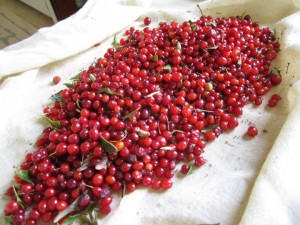 I then boiled the berries in a little bit of water just enough to make them pop open and become tender.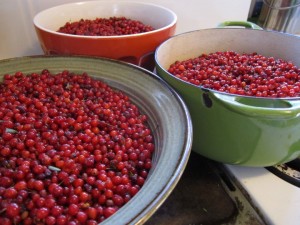 Put the boiled berries in a cheesecloth, then squeeze, mash, stomp, whatever it takes to get as much juice as possible out of them.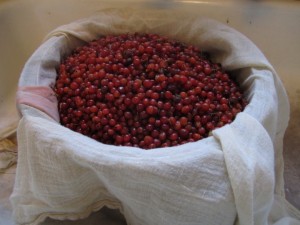 The juice looked like fruit punch, was very tasty, and was immediately made into jelly.  We used 1 part juice, 1/2 part sugar, low sugar fruit pectin, then jarred up and canned 24 8oz. jars!  Beauty!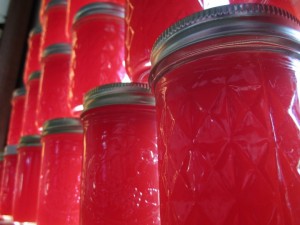 Prep time:
Cook time:
Total time:
How to make agarita jelly after you have harvested the juice from the berries.
Ingredients
1 part agarita juice
½ part sugar
low sugar fruit pectin (follow directions on box)
Instructions
Mix all ingredients
Boil for 3 minutes
Can in canning jars