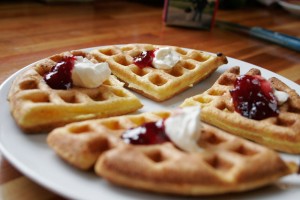 Let me just start by saying, these things are AWESOME! I discovered these little beauties while travelling in San Miguel de Allende earlier this month. We had the privilege to meet some wonderful people that were part of an acrobat troop there called Gravity Works, one of which was Norwegian. Kalyana was nice enough to invite us to his house and cook for us.
"This was my great-grandmother's waffle iron," he said. "My father scared me as a child by telling me my grandmother's ghost was inside. Listen… it farts… just like my grandmother!" It's true when he made us the beautiful heart shaped waffles the old cast iron waffle iron would let out what could only be described as an "almost silent but deadly". He later told me that it is a sign of coming of age when you tweak your waffle recipe to make it your own. I'm happy with his version right now, but feel free to play around with it and let me know!
Yesterday, my wife came home with a surprise from the antique shop. It's not heart shaped, I know, but still it's beautiful. She got me a cast iron waffle iron. A Wapak #7 that dates in the first quarter of the 1900's.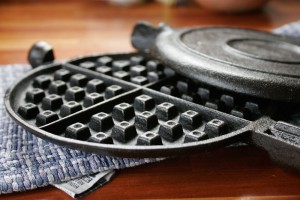 Immediately I emailed Kalyana and asked for the recipe. When my son asked for waffles the this morning, I didn't hesitate. I ran outside, grabbed some eggs from the coop, and whipped up the batter. I cleaned up the waffle iron, seasoned it with some oil, and started heating that baby up!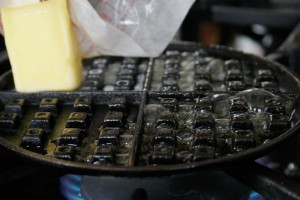 A little bit (or a lot) of butter run over the griddle..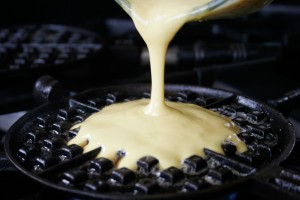 Pouring the batter….
Then cook… flip….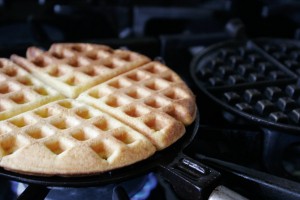 Perfection? Not quite…..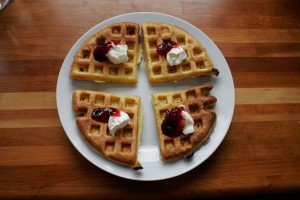 Add some sour cream and some cherry jelly…. Perfection.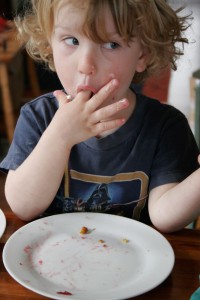 No leftovers on this one! Enjoy!

Kalyana's Norwegian Waffles
Prep time:
Cook time:
Total time:
This is a recipe for traditional Norwegian waffles cooked on a cast iron waffle iron.
Ingredients
6 eggs
1 Cup Milk
2 Tablespoons Sugar
2 Teaspoons Baking Powder
Pinch of Salt
Dash of Vanilla Seeds
Flour to consistency
Jam
Sour Cream
Instructions
Mix all the ingredients except the flour, then sift the flour in. Stirring, until the batter reaches the consistency of (I love this) wall paint.
Butter the iron in between each waffle, and cook each side until golden brown.
Top with Sour Cream and Jam... Enjoy!