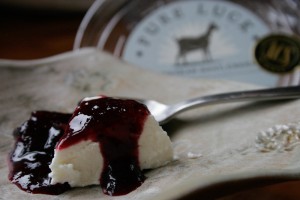 Yum.  I was a little leery of using black pepper in this jam at first, but the results were nothing short of extraordinary.  It turns this nice, sweet jam into a naughty, spicy sauce.  I just had some on top of some Pure Luck Chevre.  Phenomenal.
This recipe came from a beautiful book with recipes that have (so far) been simple, excellent, and super-tasty.  The book is: Put 'Em Up by Sherri Brooks.  I also used her recipe for the Strawberries and Cream Jam from a previous post of mine.  If you like jams, jellies, pickles, or anything canned and preserved…. buy her book!
Let's get started.  Whole Foods had a sale going on in my area for organic bing cherries for $3.99/lb ($4.00 off), so I bought myself some and started this project.  The recipe made this look so simple and easy.  Only a few ingredients, not much time to gel, can.  Well one of the ingredients is STEMMED and PITTED cherries.  I'll get to that in a minute.  First things first…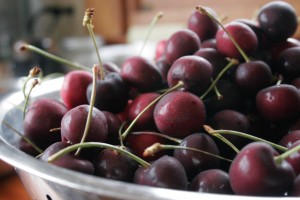 weight out about three and a half pounds of cherries.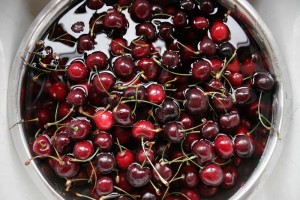 Wash and rinse a few times in cold water.  Now get ready to pit and stem.  Stems are easy, so if you don't know how to pull one of those out of a cherry, I suggest you look elsewhere for your recipes.  The pits, on the other hand, can be very tedious.  Expect to spend a good 10-20 minutes pitting these guys.  If you don't have a cherry pitter here is a trick that I use: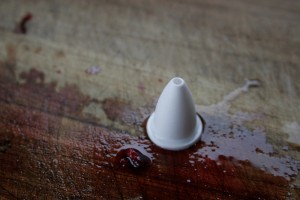 A simple cake decorating cone works like a charm.  Just stick your cherry on the cone, press down….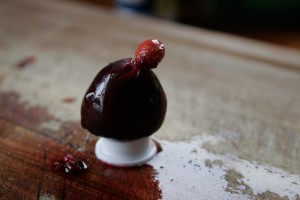 Viola.  This is a great method if you are making a jam like this, but if you are making a pie or tart, you might want to try a pitter or a paper clip molded into a nice pit sized hook that you insert into the cherry and pull the pit out.  I have done that before as well, and it keeps the bottom of the cherry looking nice.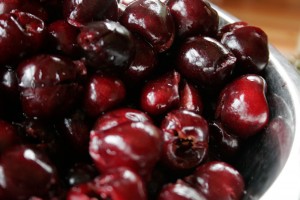 Now… after you have them all pitted and stemmed you should have about 3lbs of cherries…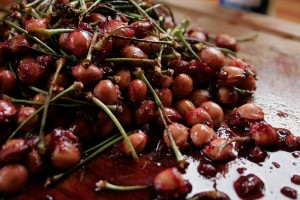 …and a lot of pits and stems.
The other ingredients you will need:
3 lbs pitted and stemmed cherries
1/4 cup, lemon juice
1 cup sugar
1 teaspoon fresh ground black pepper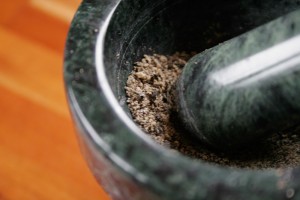 Add the cherries and about 1oz of water to a nice nonreactive stock pot.  I didn't use my copper pot for this, because the sugar doesn't go in right away.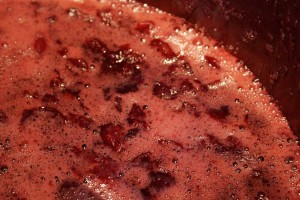 Bring the cherries to a boil, mashing and stirring the whole time.  Add in the sugar and stir until it is completely dissolved.  Add the lemon juice and the fresh ground pepper.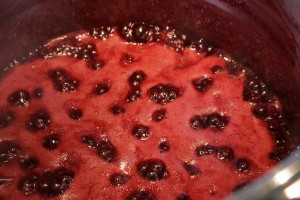 Boil, stirring frequently.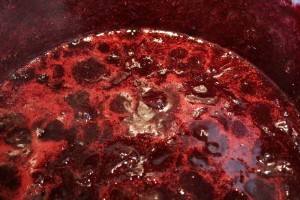 As the temperature of the jam passes 212 degrees and approaches 218, stir more and more frequently.  I found that at 218 this jam had the right gel for me.  I will mostly be using it for a sauce or topping, so I didn't want to it gel up completely.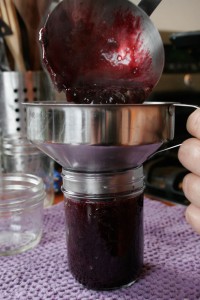 Pour into you hot canning jars leaving 1/4″  of head space.  Put the lids and bands on, and process in a boiling water bath for 10 minutes.  Turn off heat, and let rest for 5 minutes more.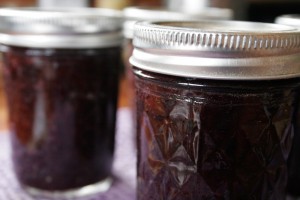 Then remove from the water bath and let cool.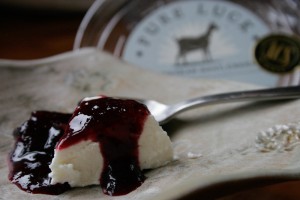 Enjoy as a topping for your favorite cheese, or a sauce for your favorite meat, or whatever else you think it might go good with!

Sweet Cherry Jam with Fresh Ground Black Pepper
Prep time:
Cook time:
Total time:
Ingredients
3 lbs pitted and stemmed cherries
¼ cup lemon juice
1 cup sugar
1 tsp fresh ground black pepper
Instructions
Add cherries and 1oz water to a nonreactive stock pot
Bring to a boil
Add sugar, and stir until completely dissolved
Add lemon juice and pepper
Boil stirring frequently until it reaches the desired gel (218 degrees for me)
Pour into hot canning jars
Can using boiling water bath method for 10 minutes
Turn off heat and let rest for 5 minutes
Remove from bath, cool, and store for up to 1 year