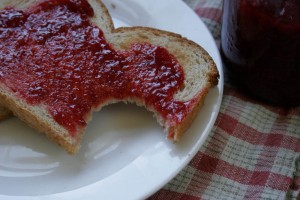 Here's some strawberry jam that is really easy to make and kicks the pants off of any store bought concoction. I added a vanilla bean in this recipe so that I got the "Strawberries and Cream" flavor.
I used the copper pot to make this jam, the same copper pot I used to make the cajeta. It conducts heat so very well, makes the process quick and painless, and helps to make the jams and jellies taste that much more fresh. If you don't have one, just use a nice heavy non-reactive pot. First thing's first…. the ingredients:
12 Cups of organic strawberries, halved and cored (about 4 lbs)
3 Cups organic sugar
3 oz fresh squeezed organic lemon juice (about 4 lemons)
1 organic vanilla bean
Take your strawberries and cut them in half and core them.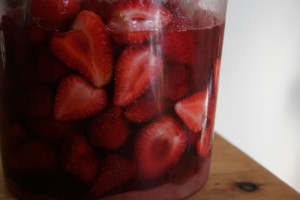 Then put them in the sugar in a container to macerate overnight.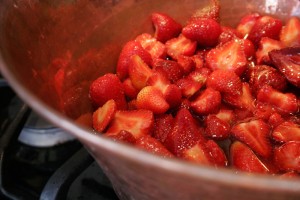 The next day, put the strawberry and sugar in the pot and bring to a boil. Use a couple of wooden spoons to crush the berries as much as possible as they heat up.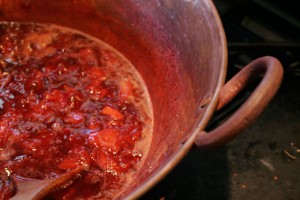 While it is heating up…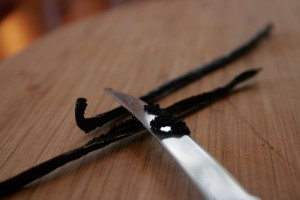 Cut the vanilla bean in half lengthwise and scrape the goodness. Also…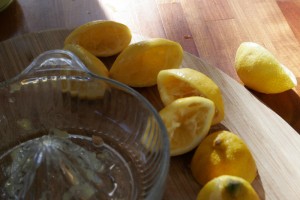 …juice your lemons. When the berries start to boil, add your vanilla bean scrapings (and the beans)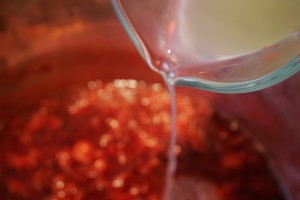 ..and the lemon juice.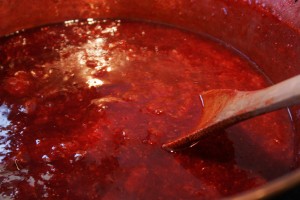 Simmer for another 20 minutes or so, until you get a good gel. Turn off the heat and let sit for a few minutes while you get your canning jars ready. *You can either put what you make straight in to the fridge now and keep it for a couple weeks, or can it, and keep it for a year.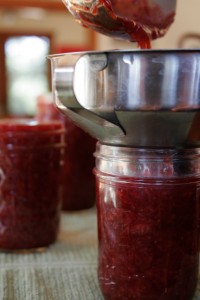 Ladle the jam into your pre-heated canning jars leaving 1/4″ headspace. Put on canning lids and rings…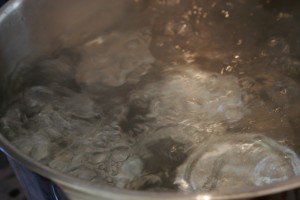 …then boil for 10 minutes. Turn off heat and let rest for 5 minutes.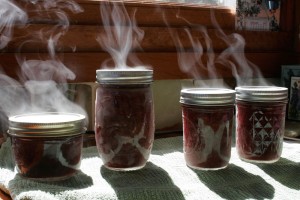 Pull them out of the canner and let them cool for 24 hours.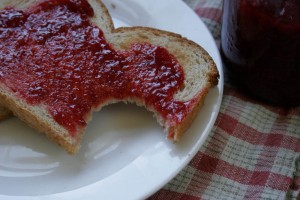 Enjoy!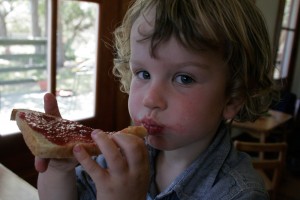 Strawberries and Cream Jam - Strawberry Jam with a Twist of Vanilla
Prep time:
Cook time:
Total time:
Strawbeeery Jam with Vanilla Bean
Ingredients
12 Cups Strawberries (about 4lbs)
3 Cups sugar
4 oz. Lemon Juice (about 4 lemons)
1 Vanilla Bean, sliced lengthwise and scraped
Instructions
Half and core berries and mix with sugar
Let sit overnight to macerate
Add berries and sugar mixture to pot
Heat to boiling
Add vanilla bean and scraping, and lemon juice
Simmer for about 20 minutes until a good gel forms
Turn off heat, and let rest for 5 minutes
Can or refrigerate jam