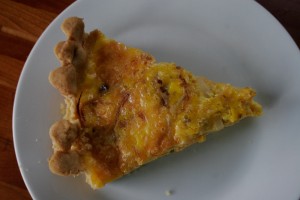 First off, the crust on this quiche was super crumbly and fantastically tasty.  That is all.
I had an abundance of eggs from our chickens, and was looking for something to make for dinner, so I pulled out the deep dish fluted quiche pan, and got to it.  I adapted the crust from a blog post I saw here.  I have used the recipe for tart shells int he past with great success, and wanted to try it gluten free.  It worked like a charm.
Here's the things you're going to need:
For the quiche:
Deep sided 9″ fluted tart or quiche pan with a removable bottom
8 eggs
1 Cup half and half
about 1 Cup of cooked veggies that you want in your quiche (I used red fingerling potatoes, green beans, and caramelized onions)
1 1/2 Cups grated cheddar cheese
Salt and Pepper to taste
For the crust:
10 Tablespoons of butter
4 1/2 Tablespoons water
1 1/2 Tablespoons brown sugar
1 1/2 Tablespoons canola oil
1 1/2 Cups of Bob's Red Mill Gluten Free All Purpose Flour
First preheat your oven to 410 degrees.  Put all the ingredients for the crust (except the flour mix) into an ovensafe container like a Pyrex.  Put it in the oven for about 10-15 minutes until all the butter is melted and bubbling.  Pull it out of the oven (very hot liquid inside, be careful).  Then toss in your gluten free flour , and stir it up with a spoon.  It should be cool enough to put in the pan fairly quickly, then you can shape it into the shell like this: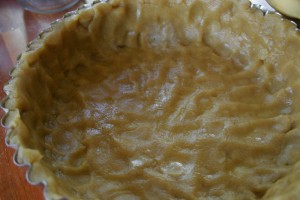 For gluten free flour, this held together nicely.  Poke some holes in the bottom with a fork, and toss that sucker back into the oven to bake for about 15 minutes.  If it doesn't feel done by then, don't worry we will be baking it more with the quiche.
Next up grab your quiche ingredients.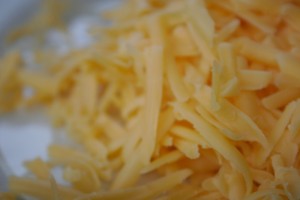 Grate your cheese.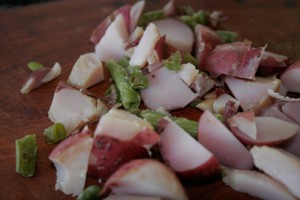 Chop your veggies to your desired size, and caramelize your onion.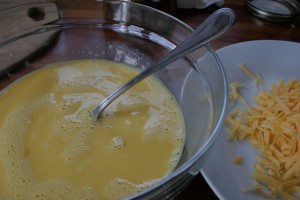 And… whisk your eggs together with the half and half, salt and pepper.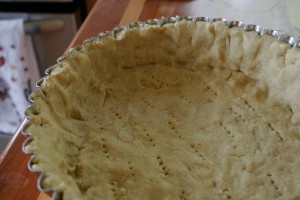 By this time your shell should be about ready to take of the oven.  Take it out and lower the oven temp to 375 degrees.
I layered my vegetables on the bottom of the shell, then the cheese.  Then I poured the egg mixture in, and finally put the onion on top.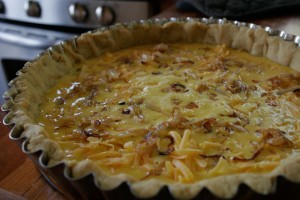 Put the whole thing back in the oven and bake for about 45-55 minutes until the sides are firm and the middle jiggles just a little bit.  When it is ready take it out and let it sit for about 5 minutes before cutting.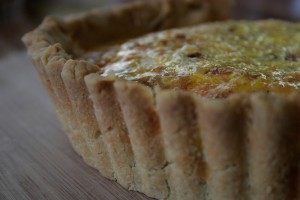 The crust should be nice and golden.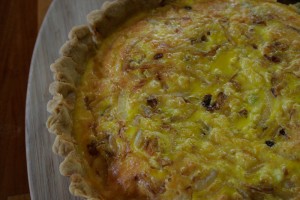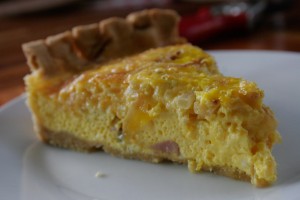 Enjoy!

Gluten Free Quiche with Crumbly Crust
Prep time:
Cook time:
Total time:
A quiche made with veggies, cheese, and a very tasty, crumbly, gluten free crust.
Ingredients
For Quiche
8 eggs
1 Cup half and half
1½ Cups cheddar cheese (grated)
1½ Cups cooked veggies (chopped to the size you like)
For Crust
10 Tablespoons of butter
4½ Tablespoons water
1½ Tablespoons brown sugar
1½ Tablespoons canola oil
1½ Cups of Bob's Red Mill Gluten Free All Purpose Flour
Instructions
First preheat your oven to 410 degrees.
Crust:
Put all the ingredients for the crust (except the flour mix) into an ovensafe container like a Pyrex
Put it in the oven for about 10-15 minutes until all the butter is melted and bubbling
Pull it out of the oven (very hot liquid inside, be careful).
Toss in your gluten free flour
Stir well
When cool, mold into your quiche pan
Poke holes with a fork in the bottom of crust
Bake for 15 minutes
Quiche:
Turn oven to 375 degrees
Whisk eggs, half and half, salt and pepper together
Layer veggies on the bottom of the crust
Layer cheese on top of veggies
Pour in egg mixture
Bake for 45-55 minutes until sides are firm and center is a little bit jiggly
Let rest for 5 minutes before cutting