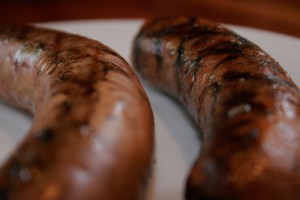 So finally, we got around to borrowing the equipment and buying some casings to stuff our own sausage.  The pork came from the pig we raised last year.  This was an adventure, and it took several pairs of hands to get the job done.  It truly was a family affair.
We used a recipe from Charcuterie: The Craft of Salting, Smoking, and Curing by Michael Ruhlman.  It is a beautiful book to look at, and an even better book to try every recipe you can from.  I highly recommend it.  The recipe we used was for Kielbasa with Marjoram.  Since we live on and operate a certified organic herb farm, the source for the marjoram was clear… just go out and cut some from the field!  Here's the ingredient list:
5 pounds boneless shoulder butt, diced
3 tablespoons salt
1/4 cup minced garlic
3 tablespoons coarsely chopped fresh marjoram
1 tablespoon ground black pepper
1/2 cup ice water
10 feet hog casings, soaked and rinsed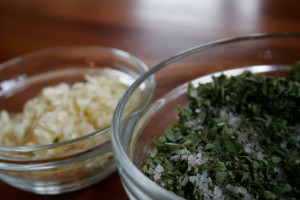 Combine all the ingredients except water (and casings, of course), and pop it in your fridge overnight.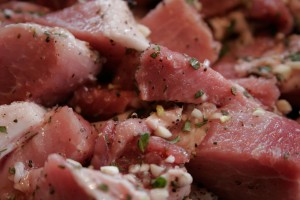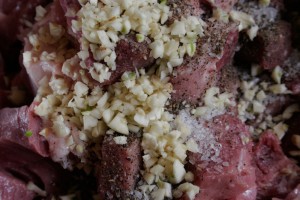 The next day, get a metal bowl and put it in a bigger bowl full of ice to keep it super cold.  Start grinding the mixture through the small die on your meat grinder into the cold bowl.  We used a KitchenAid mixer with a meat grinder/sausage stuffer attachment.  It was (in my opinion) a little too slow and the ingredients tended to warm up more than I would have liked, but it worked.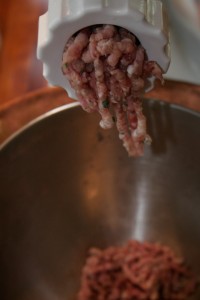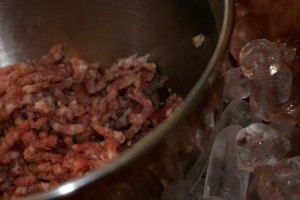 Here's the ice keeping the bowl cold.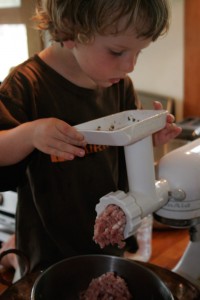 Get all the help you can… thanks, June!
Next add the ice water to the meat and mix with the paddle attachment of your mixer on medium speed until it is uniform and sticky.  Now comes the fun part…
Put the casings on your stuffer, and start stuffing the sausage.  This part needs at least 2 people, one to load the meat hopper and one to keep the sausage coming out at a consistent size.  Don't overstuff it, or you will have a hard time twisting later.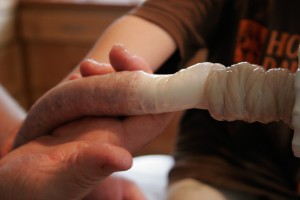 Next twist the sausage into the size links you want.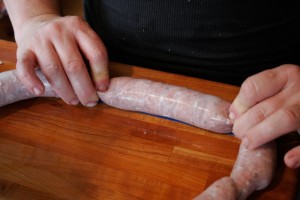 I measured a 6″ piece of tape and put it on the counter.  You want to twist the first sausage, measure the next, then measure the third and twist it.  Continue twisting every other sausage (they all get twisted, but this way you don't untwist the sausage in front of it) until it's all done.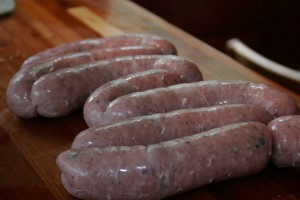 Now… cooking a sausage is a delicate thing.  Most that you eat have been overcooked, I think.  I grilled these guys, first with a 2 minute sear in direct heat, then removed to indirect heat until the internal temperature reached 150 degrees Fahrenheit.  While indirect grilling I added some soaked applewood chips to the coals for some extra smokey flavor.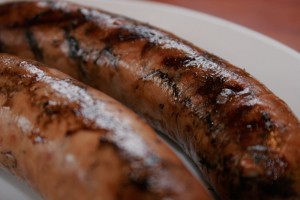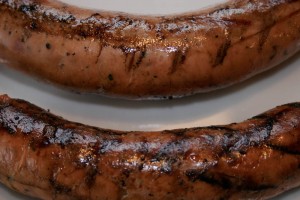 Enjoy!

Prep time:
Cook time:
Total time:
Ingredients
5 lbs boneless pork shoulder butt, diced
3 tablespoons salt
¼ cup minced garlic
3 tablespoons fresh marjoram, coarsely chopped
1 tablespoon ground black pepper
½ cup ice water
10 feet hog casings, soaked and rinsed
Instructions
Combine all ingredients except water and casings, refrigerate overnight
Grind mixture with small die
Add water, and mix with paddle until uniform and sticky
Stuff sausage into casings
Twist sausages