While halving and hulling thirty-six pounds of strawberries for an extra large batch of Strawberries and Cream Jam, I had several silly ideas. One of which was a B-Grade horror movie in which the tagline read "To Halve and to Hull", but that's another blog post. The other was to make strawberry covered chocolate. I wanted to take a very familiar dessert and twist it around. The results were delicious.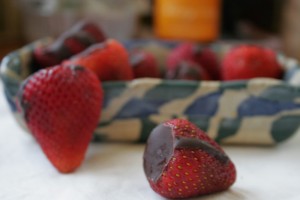 You only need two ingredients and a few minutes to make these. Here's what I used: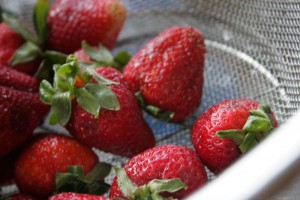 Organic Strawberries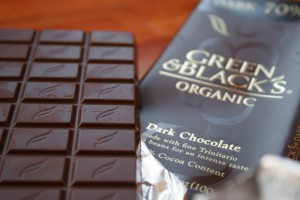 and some tasty Green & Black organic dark chocolate.
Wash and rinse your strawberries. Then core them like this: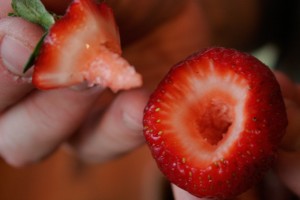 Make a cut around the top, and pull up on the leaves to pull the core right out.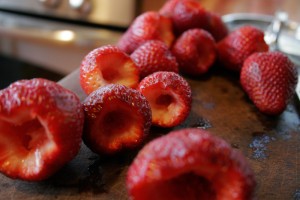 Next, take the chocolate, break it up, and put it in a small bowl. Put the bowl on a pot of water so the steam heats up the bowl and melts the chocolate. Like this: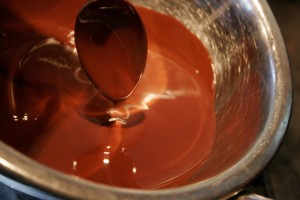 Now spoon the chocolate into the core of the strawberries.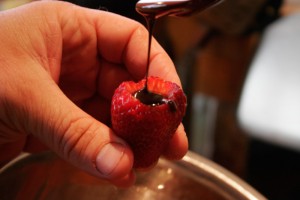 Put the strawberries in something that will hold them upright.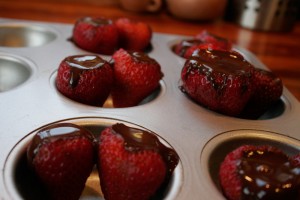 I used a muffin tin. Put them in the refrigerator to chill. The chocolate will harden, and you will have a tasty treat. Strawberry covered chocolate!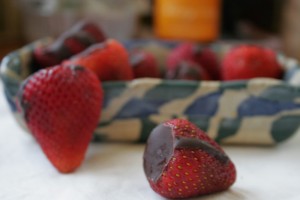 Strawberry Covered Chocolate
Prep time:
Cook time:
Total time:
A twist on the normal chocolate covered strawberries.
Ingredients
Strawberries
Dark Chocolate
Instructions
Wash and rinse your strawberries
Core the berries
Heat the chocolate in a metal bowl on top of a pot of hot water
Spoon the melted chocolate into the core of the berries
Refrigerate