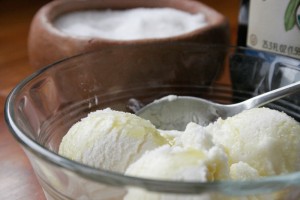 Here's the thing…I love ice cream.  I always have.  That being said, I REALLY love homemade ice cream, I don't think anything compares.  In search of my favorite recipe for ice cream, I can only thank one of my oldest friends from grade school for letting me in on the secret (Thanks, Aaron).  Four ingredients: (Milk, Cream, Sugar, Vanilla), no cooking, no cooling, just straight up, mix, and put in the maker.
Now… living on a goat dairy, I have access to the freshest goat milk around.  Last night, we brought home about 2 gallons of milk straight from the nightly milking and ran it through this wonderful contraption: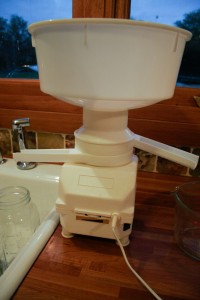 The cream separator is needed to separate goat milk because it is naturally homogenized, meaning the fat globules are suspended in the milk and don't separate on their own like cow milk.  With the help of some centrifugal force….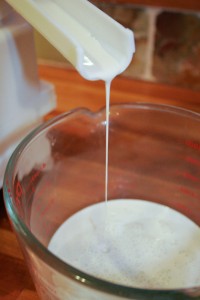 Out comes the cream! For the goat milk ice cream, I like to use the cream right away, because if you wait until it's cold it becomes very very thick.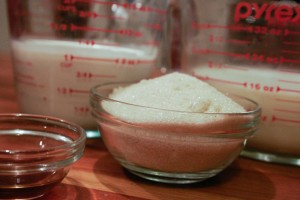 Mix up 2 cups of whole goats milk, with 1 cup of  goat cream, 1/2 cup of sugar, and 1 teaspoon of vanilla extract.  Throw it all in your ice cream maker and off it goes!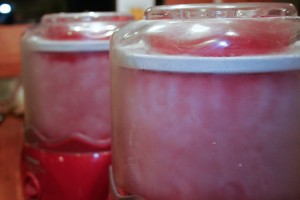 I ran a double batch last night, because we have some special guests over for lunch.  After about 20 minutes or so in the ice cream maker, it was ready to come out.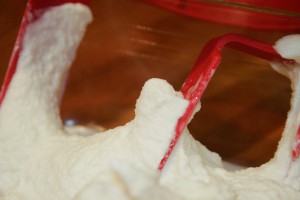 I prefer to take it out when it's soft, and move it to another container to put in the freezer.  I let it harden up in there. This afternoon I pulled it out of the freezer, and served it up.  The next part is what makes this SO good.  Olive oil and sea salt.  Drizzle some great olive oil on the ice cream, and sprinkle a pinch of sea salt on there.  The taste is sort of like eating a nice salty caramel on top.  It really is divine.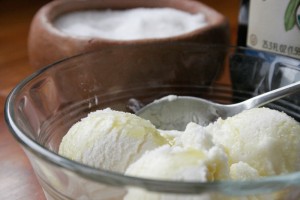 Goat Milk Ice Cream with Olive Oil and Sea Salt
Prep time:
Cook time:
Total time:
Goat milk ice cream with an olive oil and sea salt topping.
Ingredients
Ice Cream
2 Cups whole goat milk
1 Cup goat cream
½ Cup sugar
1 teaspoon vanilla extract
Topping
Instructions
Ice Cream
Mix ingredients well
Put in ice cream maker until the ice cream is frozen, but soft
Put in freezer to stiffen up
Topping
Drizzle with Olive Oil
Sprinkle with a pinch of Sea Salt